Winter 2018
Lifestyle
On the Edge of the World
Rising from the depths of the Arabian Desert, a unique adventure awaits guests of Four Seasons Hotel Riyadh at Kingdom Centre
With unprecedented access to Saudi Arabia's magnificent natural wonder, the Tuwaiq escarpment, the new Extraordinary Experience in the Four Seasons Hotels & Resorts collection promises a trip of a lifetime.
In the company of a dedicated Four Seasons team, the excursion begins by making your way to the historic oasis of Ad'Diriyah, once the seat of the Saudi royal family and home to a Unesco World Heritage Site. After a captivating trip through the kingdom's historic past, comprising the 15th-century palaces, forts and mosques across the old city, and a lively exploration through the colourful market centre of Al Bujairy, you will find yourself revelling in the beauty of your ultimate destination – the Edge of the World.
Once you have had the opportunity to absorb the epic scale of the 700-km-long Tuwaiq escarpment from Jebel Fihrayn, the cliff that is known as the Edge of the World, you start to understand the apt nickname for this spectacular vista that is seemingly limitless.
The traveller can look forward to spending the afternoon trekking, photographing the dramatic views of the cliffs and the plains below.
For the more adventurous, this is the ideal moment to take to the skies and enjoy a magnificent view of the expansive landscape from a microlight aircraft.
The day ends amongst the acacia trees in the valley below, where you watch the setting sun as it paints the surrounding scenery with the colours of twilight.
Rolf Lippuner, General Manager, Four Seasons Hotel Riyadh at Kingdom Centre, says: "Four Seasons Hotel Riyadh at Kingdom Centre is delighted to launch this extraordinary experience that provides guests with a remarkable opportunity to explore the wonder of the Arabian Desert while gaining a richer insight into Saudi heritage. Many visitors to our hotel have expressed eagerness to discover more about the nation's culture, heritage and landscape. At Four Seasons, we believe that true hospitality lies in offering our guests a genuine experience of the sights, sounds and scenes of the places where we welcome them; and so it is our privilege to introduce an unmissable journey into the heart of one of Saudi Arabia's greatest natural treasures."
The Journey to the Edge of the World Extraordinary Experience includes transportation in a Cadillac Escalade, a traditional Bedouin tent with fully-equipped washrooms, and Four Seasons BBQ lunch and traditional Saudi cuisine priced at SR2,200 ($586.63) per person for a minimum of five guests. The experience can be booked between October and April.
Optional extras include a microlight aircraft experience for a maximum of 10 people, priced on a full-day basis at SR8,500 ($2,266), and a family entertainment package that includes archery, mini-golf and Ludo Star and is priced at SR4,500 for a full day.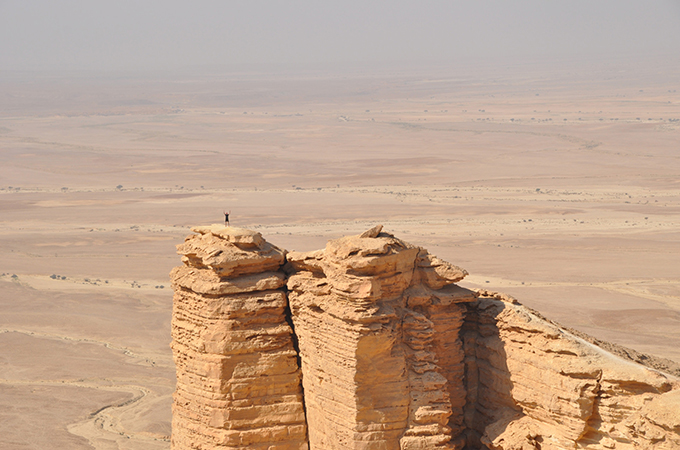 "
The journey into the heart of one of Saudi Arabia's greatest natural treasures promises a trip of a lifetime