Winter 2020
Yachting
Elegance with Élan
CRN, a historic shipyard and Ferretti Group brand, has released some initial details about hull number 138, currently a work in progress at the yard in Ancona, Italy.
The yacht is set to be a sublime union of elegant, exquisite materials and the contemporary style.
This new one-off yacht is the fruit of a partnership among CRN; Omega Architects, for her exterior profile; and Pulina Exclusive Interiors, which is shaping the spaces inside.
The 62-m CRN M/Y 138 hull is a composition of flowing, sporty lines in the signature style of Frank Laupman, head of Dutch design studio Omega Architects.
The M/Y 138 layout has been devised to make the most of all the spaces, set off by the sophisticated wall décor that instantly attracts the eye when you step on board. The generous living and dining areas, the owner's suite and the cabins all reflect an enlightened contemporary living concept, where the comfort is enhanced by chic details, premium materials and a colour palette of subtle natural tones. The large windows, like the 180-degree glazing in the owner's suite, flood every room with natural light while offering breathtaking views of the surrounding seascapes, for a real explorer feel.
One of the things that makes this megayacht unique is the inimitable zest for the on-board lifestyle that imbues her indoor living areas, courtesy of the in-depth experience of Italian designers and architects Pulina Exclusive Interiors.
The boldest expression of this 203-footer's charm is the main-deck living area: a single eye-catching space encapsulating all the elements of style that define her design.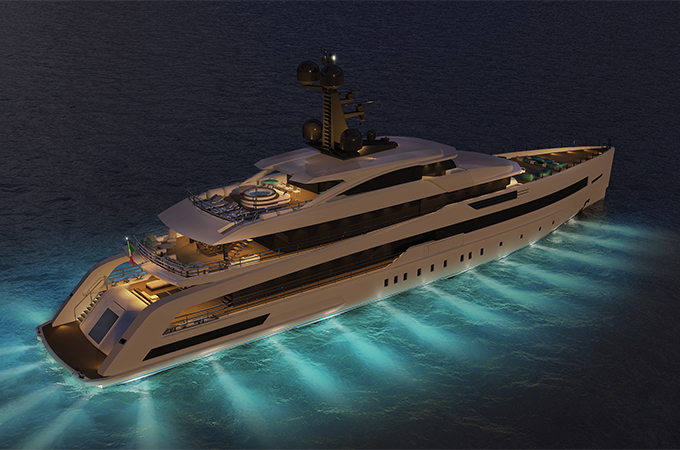 "
One of the things that makes this megayacht unique is the inimitable zest for the on-board lifestyle that imbues her indoor living areas