Spring/Summer 2018
Real Estate & Property
On the Beach in Fujairah
Fujairah Beach, the only gated residential community in Fujairah, provides residents with the best of both worlds by placing them on the beach yet still within the city


Eight exclusive waterfront villas at Fujairah Beach are being offered to discerning investors at the UAE emirate's only residential community with direct beach access.
Fujairah Beach, being developed by Eagle Hills, an Abu Dhabi-based private real estate investment and development company, is a luxury complex comprising 80 villas and townhouses and 167 guest rooms in the Palace Fujairah Beach Hotel.
Low Ping, CEO of Eagle Hills, said: "We have taken a major step toward bringing premium beachfront living to this unique part of Fujairah, which is set to become the beating heart of the emirate. At Fujairah Beach, we are providing residents with the best of both worlds by placing them on the beach yet still within the city, which will offer a highly convenient and connected lifestyle while also providing a full range of leisure and recreation opportunities."
The newly released Fujairah Beach units range from 1,520 sq ft to 2,140 sq ft in size, and include two- and three-bedroom villas and townhouses. They are part of the only gated residential community in Fujairah to offer direct beach access to the beautiful Gulf of Oman coastline, and will feature a wide range of leisure and recreation amenities including a central garden, a jogging and bike track, a gym, a swimming pool, and a children's play area.
Once complete, the Fujairah Beach development will also feature the new Palace Fujairah Beach hotel – a luxury destination that will be managed by the renowned Address Hotels + Resorts brand. The hotel will offer a health club, select cafes, high-quality dining outlets, separate pools for adults and children, and world-class meeting venues, making it ideal for families and business guests.
The project is expected to be completed in December 2019.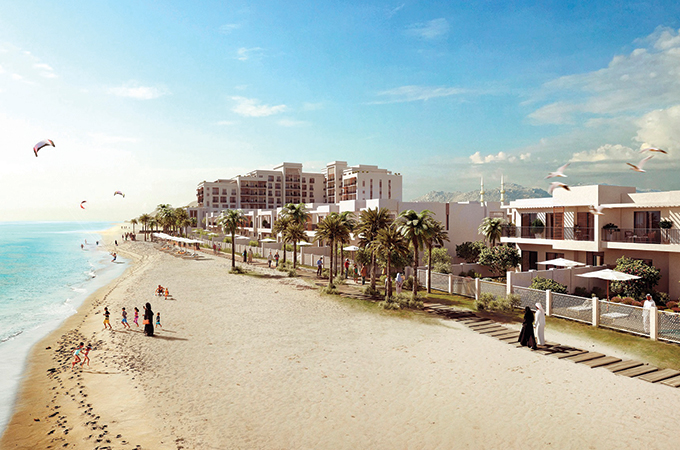 "
Once complete, the Fujairah Beach development will also feature the new Palace Fujairah Beach hotel – a luxury destination