Spring/Summer 2019
Motoring
Confident Macan
The new Porsche Macan is distinctive and has a confident appearance coupled with a perfect balance of emotions and functionality.
Following a comprehensive upgrade, one of Porsche's most popular models, the Macan, is now available in the region.
With performance credentials that underline the model's position as the true sports car in its segment, the latest generation was showcased to guests at a special event held by Porsche Centre Bahrain, Behbehani Brothers, at its showroom in Sitra.
The brand's compact SUV has evolved in terms of comfort and driving dynamics, with two engine versions available at launch, the Macan and the more powerful Macan S.
Colin Sattar, General Manager of Porsche Centre Bahrain, said: "The Macan has been one of our most successful series in Bahrain and with the new generation combining even more pronounced Porsche DNA, greater performance and comfort, I am confident that the success story is sure to continue. I believe that the Macan is the most exciting compact SUV on the market, never allowing you to forget it is a true sports car at heart."
The Macan comes to the starting line with an enhanced 2.0-litre turbocharged four-cylinder engine, producing 252 hp and delivering a maximum torque of 370 Nm. It accelerates from zero to 100 km/h in 6.5 seconds (when equipped with the optional Sport Chrono Package) and reaches a top speed of 227 km/h. The Macan S is powered by a new V6 engine, which was first introduced in the new generations of the Panamera and Cayenne. The high-tech power unit produces 354 hp (an increase of 14 hp compared to its predecessor) and a torque output of 480 Nm. As a result, acceleration to 100 km/h is in just 5.1 seconds with the optional Sport Chrono Package; its top speed is 254 km/h.
The vehicle dynamics of the Macan remain a principal feature. The revamped chassis increases driving pleasure, offering stability and improved comfort thanks to newly developed mixed-size tyres, enhanced brakes and the intelligent all-wheel-drive Porsche Traction Management (PTM) system. All combined, the Macan feels even more like a sports car than ever before.
The range of standard equipment has been further enhanced, thus increasing the attractiveness of the new model. Customers can now enjoy features, such as a panoramic sunroof, automatically dimming mirrors and ParkAssist in front and rear with reversing camera, at no extra costs.
The new Porsche Macan and Macan S are now available at Porsche Centre Bahrain. Basic retail prices are: Macan –BD22,242; Macan S – BD29,310.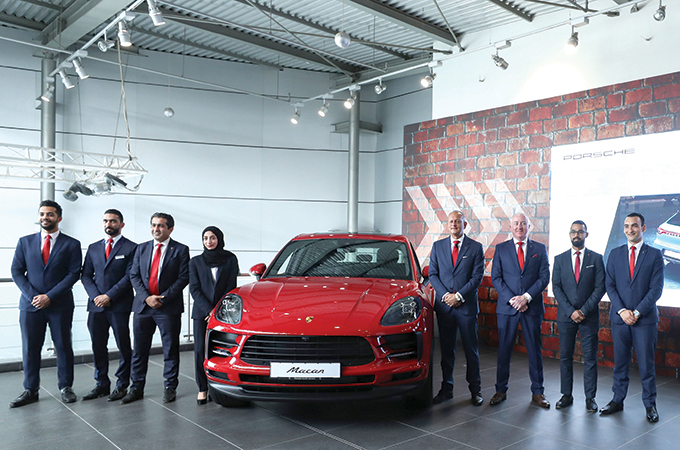 "
'I believe that the Macan is the most exciting compact SUV on the market, never allowing you to forget it is a true sports car at heart'