Autumn 2018
Motoring
Ready to Race
The new 720S GT3 will elevate the extreme performance of the 720S road car to world-class track pace – accessible to both professional and amateur drivers
The first GT race car to be developed by McLaren Automotive's new customer racing division is being readied for its competition debut in 2019.
Track testing of the car is well under way and will see the McLaren 720S GT3 test extensively across Europe, the US and the Middle East.
The new GT3 challenger, which is based on the acclaimed 720S supercar, will be eligible for all GT3 grids globally in 2019.
The track-based phase of the development programme follows extensive computational fluid dynamics (CFD) simulations and incorporates a punishing test regime that will validate key performance data and long-distance durability.
"It was an incredibly exciting moment for us to see our new 720S GT3 begin the intensive track-based phase of a development programme that we are confident will provide our customers with a first-class GT race car," commented Mike Flewitt, McLaren Automotive Chief Executive Officer.
"Enabling our customers to go racing is integral to the business strategy of McLaren Automotive and we are committed to supplying teams with exceptional GT cars and the world-class support to get the most out of them," he added.
As with the road car, at the heart of the 720S GT3 is the light but immensely stiff carbonfibre MonoCage II chassis structure. A race-prepared version of the M840T 4.0-litre twin-turbo V8 engine provides the power. The focus on pure engineering, innovative aerodynamics and efficient design that makes the 720S road car so incredibly impressive provides the ideal starting point for the journey from multi-talented supercar to be the strongest contender yet from McLaren for GT3 racing honours.
The design and development work has been undertaken within a new dedicated GT race facility at McLaren Automotive in Woking, Surrey, where all new GT3 cars will be hand-assembled. The first two development cars have embarked on the extensive, physical test programme, which will initially use tracks on both sides of the Atlantic, followed by an intensive Middle East programme before the end of the year.
Development targets for the 720S GT3 centre not just on speed and stability but also on making the car accessible for drivers of all abilities, as well as a more efficient one for teams to run – both financially and from a serviceability perspective. Optimised fuel efficiency and tyre management have been prioritised, together with improved reliability, durability and serviceability – both in race conditions and between events. A breadth of handling balance and predictable on-limit behaviour for both professional and amateur drivers alike are central to the project, reflecting the make-up of GT3 competitors globally, said the company.
The McLaren 720S GT3 race car is on schedule to make its competition debut in 2019. It will be priced at BD213,200 ($565,442) ex-works, and McLaren will look to enter strategically important global championships with the first examples of the latest GT3 challenger through engaging with customer teams.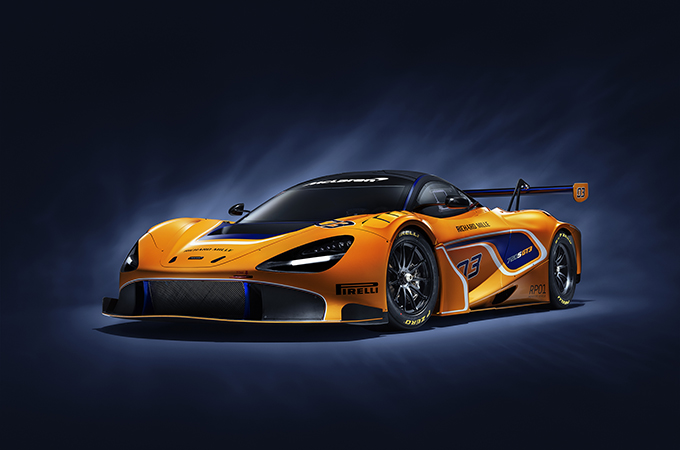 "
The new GT3 challenger, which is based on the acclaimed 720S supercar, will be eligible for all GT3 grids globally in 2019