Autumn 2021
Motoring
Merging Man and Machine
Mercedes-Benz is now integrating the first BCI approaches into its pioneering Vision AVTR concept vehicle.
At the IAA Mobility 2021 in Munich, the brand presented how BCI technology works and, for the first time, gave a preview of mind control as a new dimension of human interaction with the vehicle. After a short calibration process, a BCI device attached to the user's head analyses the measured brain waves and triggers a defined function. At the brand's stand, visitors could experience controlling the user interface in the vehicle with their own thoughts and interact with it in real time.
"Mercedes-Benz is setting another milestone in the merging of man and machine with the research and development of brain-computer interface applications in cars. BCI technology has the potential to further enhance driving comfort in the future, for example," said Britta Seeger, Member of the Board of Management of Daimler AG and Mercedes-Benz AG, responsible for sales.
"Mercedes-Benz has always pioneered intelligent, innovative solutions to provide our customers with the best product and service experience. BCI technology works completely independently of speech and touch."
Using several functions linked to BCI technology, visitors to the fair could experience this ground-breaking form of interaction with the vehicle live. They could experience how quickly their own brain connects with the vehicle – similar to the neuronal connection between the Na'vi and nature in the Hollywood blockbuster "Avatar". By focusing on points of light, they can use the power of their thoughts to perform various functions in the digital VISION AVTR worlds displayed on the dashboard: for example, generate wind, grow plants, select parking spaces to charge or turn day into night.
The stretched "one-bow" design and organic design language combine exterior and interior into an emotional whole. Instead of a conventional steering wheel, the Vision AVTR has a multifunctional control element in the centre console. By placing the hand on the control, the interior comes to life and the vehicle recognises the passenger by his/her heart rate. Simply raising the hand projects a menu selection onto the palm of the hand, allowing the user to intuitively choose between different functionalities.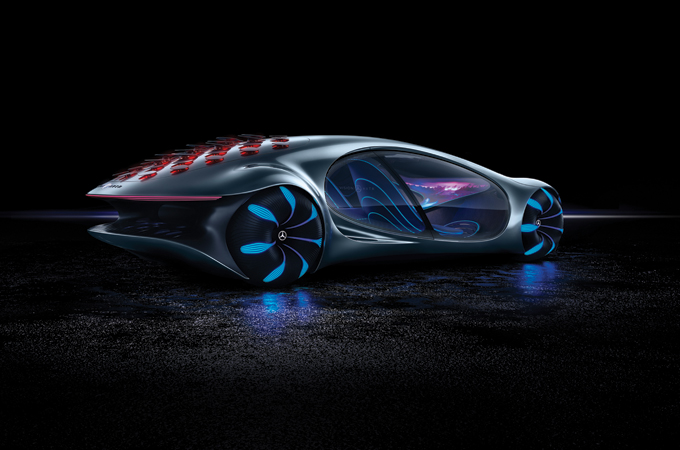 "
Selecting the navigation destination by thought control, switching the ambient light in the interior or changing the radio station: Brain-computer interfaces (BCI) enable this new form of machine control. They are no longer science fiction